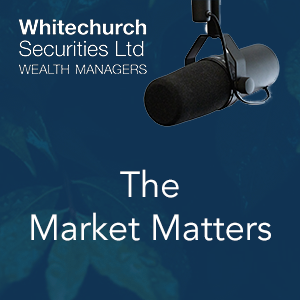 The Whitechurch Podcast Has Launched!
We are very excited to announce that Whitechurch Securities Ltd (of which Whitechurch Financial Consultants is a division of) have published the very first episode of their new podcast The Market Matters! Throughout the series of podcasts, they will be exploring key events moving the financial markets. Whitechurch Investment Managers and guests share their thoughts on investment opportunities and risks as well as emerging trends in society.
In this first episode, Investment Manager, Tim Jones summarises the key events of 2021 and 2022 to-date and the impact these have and will have on the financial market.
Click on the button above to give it a listen.
DISCLAIMER: These are discussion pieces produced by Whitechurch Securities Ltd (WSL). Opinions expressed within this article
are those of the author and do not necessarily reflect those of WSL. Reference to individual companies is purely for the sake of discussion and should not be considered investment advice.

Important Notes: This publication is approved by Whitechurch Securities Limited which is authorised and regulated by the Financial Conduct Authority. All contents of this publication are correct at the date of publication. We have made great efforts to ensure the accuracy of the information provided and do not accept responsibility for errors or omissions. This publication is intended to provide helpful information of a general nature and is not a specific recommendation to invest. The contents may not be suitable for everyone. We recommend you take professional advice before entering into any obligations or transactions. Past performance is not necessarily a guide to future performance. Investment returns cannot be guaranteed and you may not get back the full amount you invested. The stockmarket should not be considered as a suitable place for short-term investments. Levels and bases of, and reliefs from, taxation are subject to change and values depend on the circumstances of the investor.

Whitechurch Securities Limited is authorised and regulated by the Financial Conduct Authority. Financial Services Register No. 114318.
Registered in England and Wales 1576951. Registered Address: C/o Saffery Champness, St Catherine's Court, Berkeley Place, Bristol, BS8 1BQ
Correspondence Address: The Old Chapel, 14 Fairview Drive, Redland, Bristol BS6 6PH Tel: 0117 452 1208 Web: www.whitechurch.co.uk